OCL Products Now Meet RoHS Materials Restrictions
Because Sustainability is Everyone's Responsibility.
At OCL we are building sustainable solutions into everything we do. By incorporating environmentally conscious practices into our business, we aim to support the health of our ecosystem. By working sustainably to protect the climate, we support human and social health.
We aspire to be leaders in the lighting industry by operating sustainably and by helping our customers to reach their sustainability goals as a part of Legrand's Corporate Responsibility Roadmap.
Check out our Sustainability page and brochure to learn more the sustainability initiatives that OCL is taking. >>
Why Sustainability?
According to the 2020 AIA Sustainability Report, summarized here by Inside.Lighting, 4 in 5 architects want to specify more sustainable materials.  However, only 1 in 3 architects feel that they are meeting that sustainable need currently. The desire to specify more sustainably is certainly there, but there are still challenges to face.
See the AIA charts, graphs and commentary »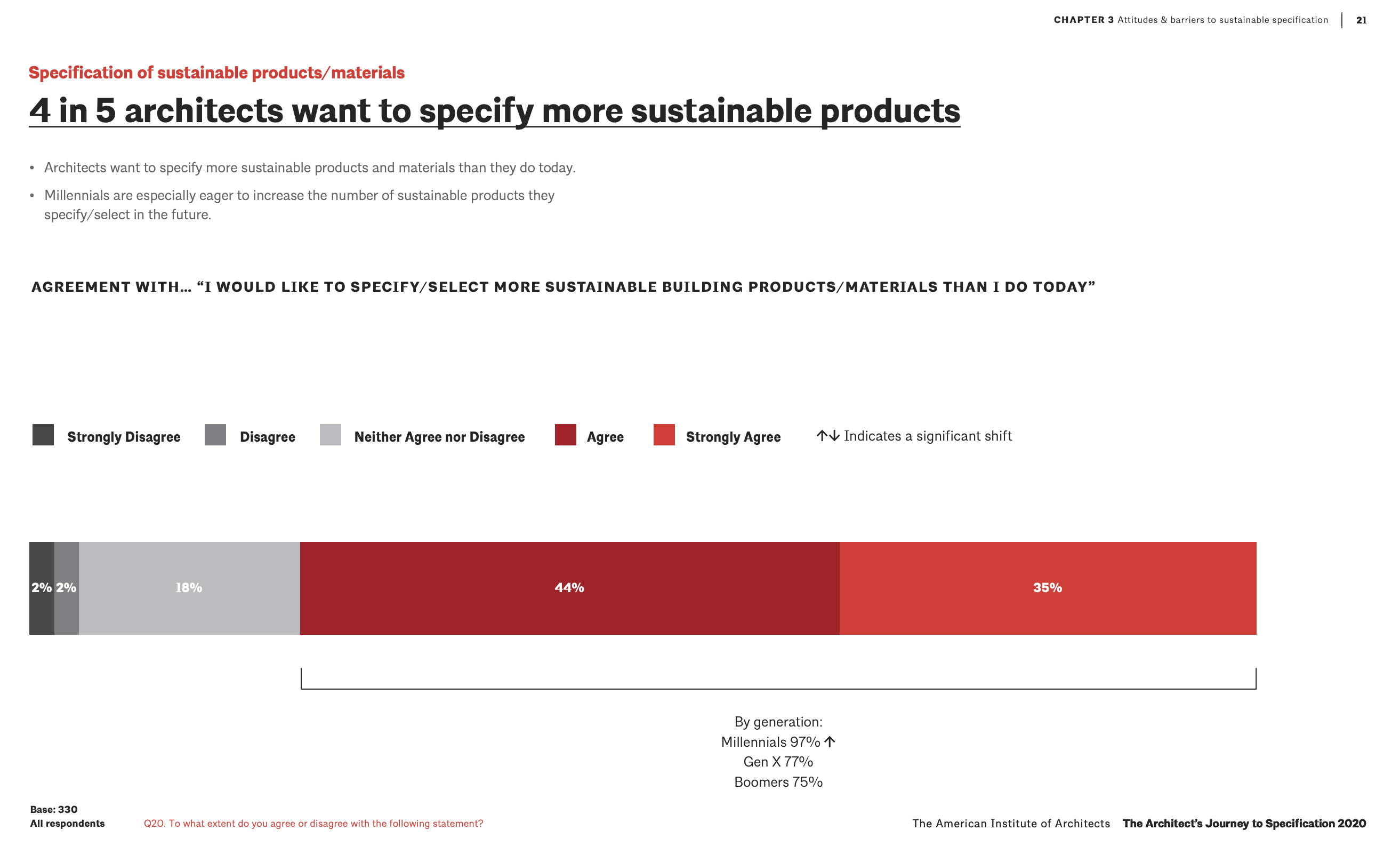 OCL Announces RoHS Materials Restrictions in 32 products
Sustainability is imperative, and that's why OCL is excited to announce that as of January 2021, we have completed RoHS 3 evaluation and materials restrictions for all parts used in thirty-two of our top fixture series.
Look for this label on OCL product spec sheets that meet RoHS Materials Restrictions:

You can also Search RoHS on our website to checkout our thirty-two products that meet these guidelines.

What is RoHS?
Started in the European Union in 2003, the Restriction of Hazardous Substances (RoHS), also known as Directive 2002/95/EC, restricts the use of hazardous materials in electrical and electronic products (EEE). This measure aims to promote the use and recycling of more sustainable products.
In order to protect the environment, the following substances are banned under RoHS: lead (Pb), mercury (Hg), cadmium (Cd), hexavalent chromium, (CrVI), polybrominated biphenyls (PBB), polybrominated diphenyl ethers (PBDE), and four phthalates (DEHP, DIBP, BBP, BBP).
The RoHS Directive requires manufacturers to minimize their use of these substances because they pollute landfills. RoHS 3 adds four additional restricted substances. Products are tested to see if they meet these standards by using a portable RoHS X-ray fluorescence analyzer.
Healthcare and sustainability intersect under RoHS. The healthcare industry has its own compliance regulations under HIPAA, which also apply to manufacturing of electric and electronic products. Thus, RoHS and HIPAA are connected in this way.
Visit the RoHS Compliance FAQ (rohsguide.com) for more information. >>
Why RoHS?
During a time of so much uncertainty in the world, it is now more important than ever to manufacture products sustainably. The National Measurements Office (NMO) monitors to make sure these regulations are being followed. The world is becoming increasingly digitized at a staccato rate through the advent of mobile phones, healthcare machines, and other devices, which is why regulations like RoHS are very helpful.
RoHS regulations help to promote safety at each stage of the lifecycle of electronics. The impact of the harmful chemicals that RoHS bans may not be seen immediately, but it has the potential for harmful consequences overtime. While transitioning products to meet the RoHS standards can sometimes be challenging, it ultimately improves the overall welfare of consumers, employees, and the environment.
Sustainable products start with transparency
At OCL, we are actively integrating sustainability into our processes so we can proudly contribute to your High-Performance Building initiatives and organizations.