Project: Sauk Trails Plaza II
Sauk Trails Plaza II is a perfect example of how OCL luminaires can be the solution throughout your next project.  Designed and built by Iconica, this 160,000 square foot, state-of-the-art office building is impressive, utilizing symmetrical shapes, large open lobby spaces, and as much window space as possible for tenants.
Wide open floor plans with an abundance of natural light were key to the design aesthetic. Every office has access to natural light.  The 3-story monumental staircase is the centerpiece, creating a 50 foot natural light well that houses an OCL 72-piece, DMX-controlled GLOWSTICK cluster installation.
"Our goal was to curate these architectural moments with lighting both on each floor and in tying each floor together, creating these pockets of art for the entire office to enjoy.  OCL's family of lighting fixtures is extremely sculptural, so partnering with them on this project was a perfect fit. " – Steve Carbin, Lead Architectural and Interior Designer, Iconica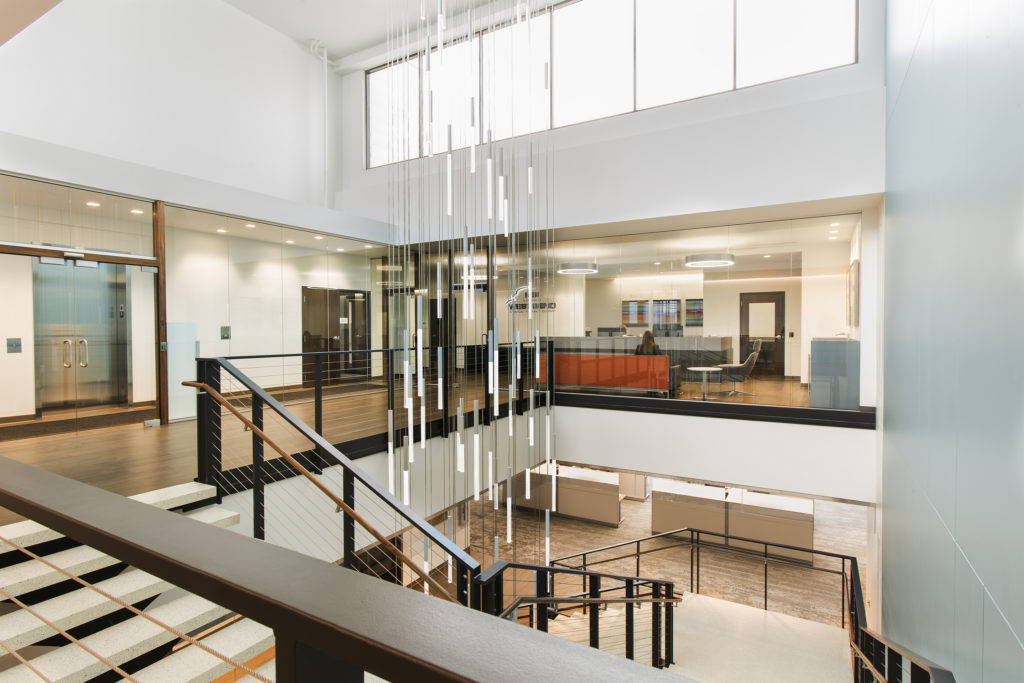 "Usually architectural features take up space, but this is closer to the antithesis. The opening and staircase will become a gathering spot for employees, not just a way to get from one floor to the other, along with a natural draw from the light radiating down and from the sides continually throughout the day. We intentionally made sure to make the whole building very light with 10' foot windows around the entire perimeter, but this opening, staircase and 'skylight' will bring even more natural light and beauty to every floor."– John Seamon, Director of Design Strategy, Iconica
Nicknamed School of Fish, this cluster installation boasts the latest in DMX controllability.  The fixtures are programed to swell and flow, handing light off from one piece to another.  The light can cascade, change speed and move horizontally and vertically throughout the fixture. The patterns and effects available are limitless.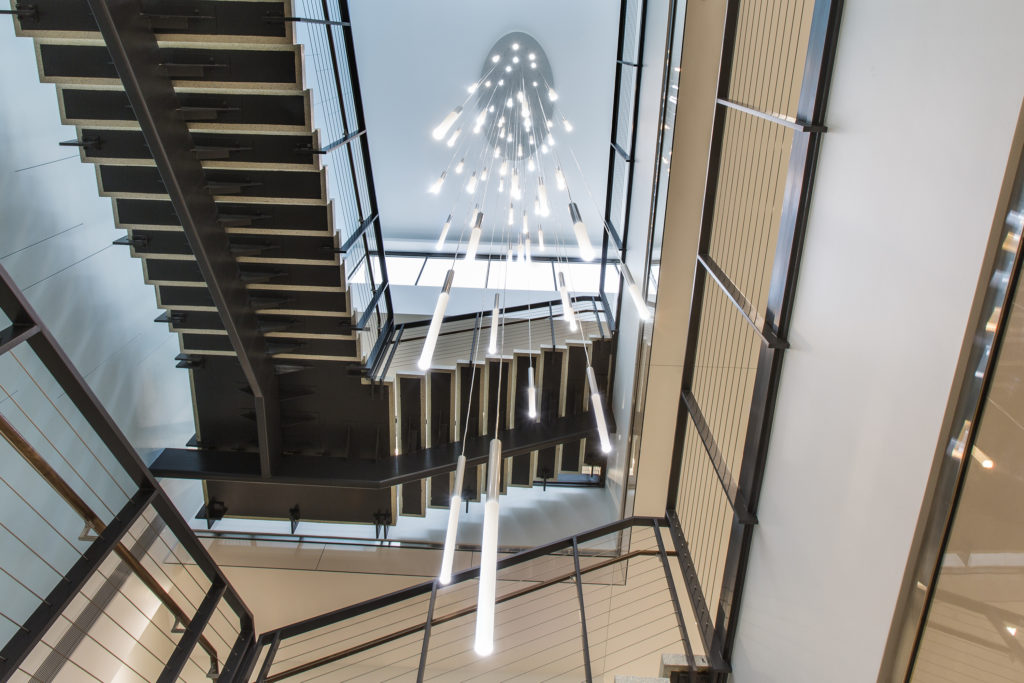 "The lighting reinforces the centerpiece of the office spaces. I see this as an area for all.. staff to come together. It plays off of the open nature and speaks to the client's culture of teamwork. The result is dynamic and powerful." – John Seamon, Director of Design Strategy, Iconica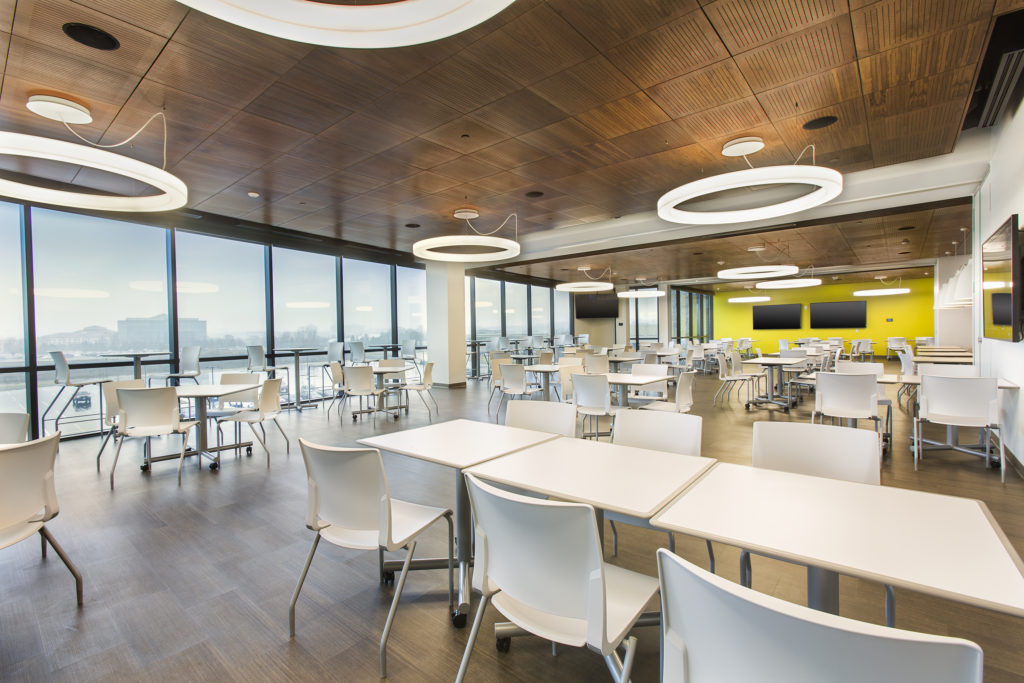 On the third floor a collection of GLOWRING pendants lights the 3,000 square foot work café and a service alcove with commercial kitchen, chef, and coffee bar.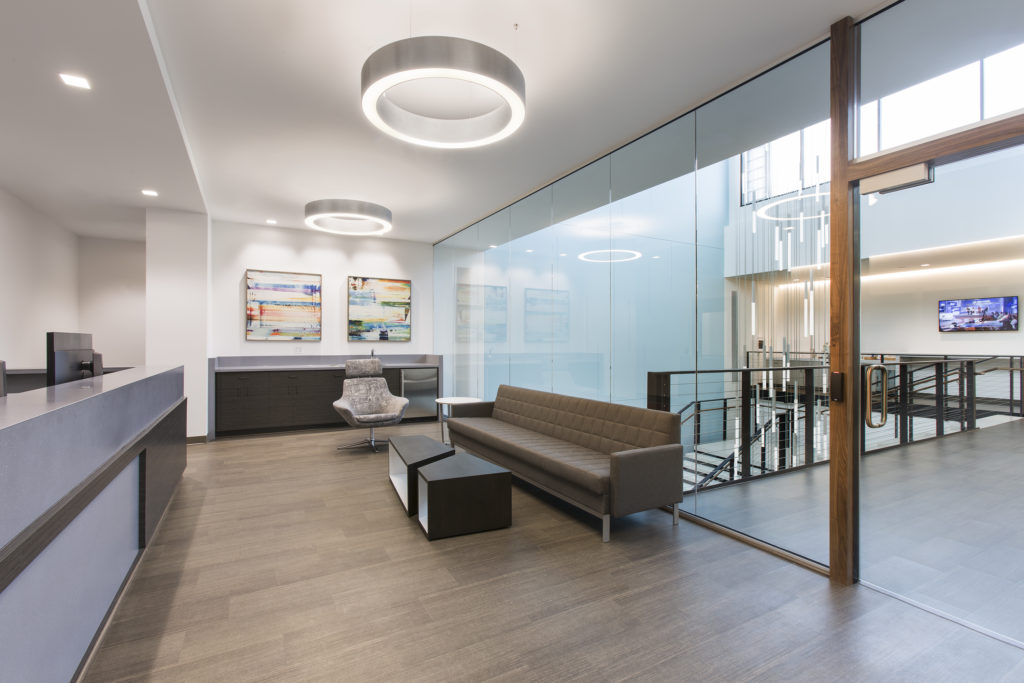 TWIN pendants greet visitors in the reception area.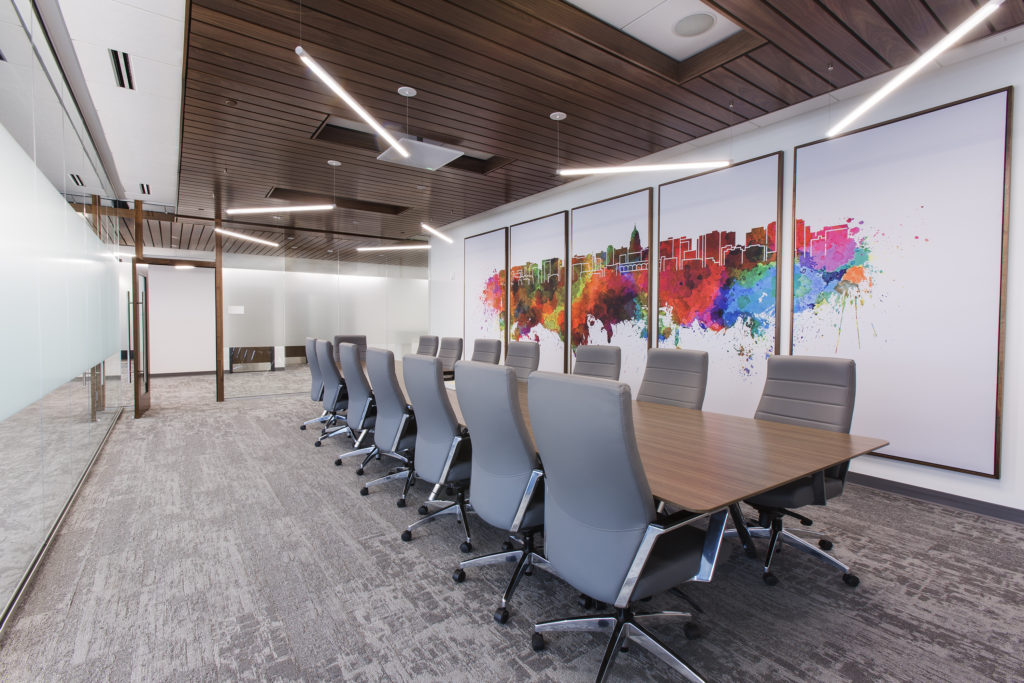 An array of DASH pendants illuminates the conference room.
Need inspiration for your next design?  Check out our Gallery for more OCL applications.
Photography, video footage and quotes courtesy of Iconica.