PETALS WINS 2022 NLB ART OF LIGHTING AWARD
Petals has done it again! The National Lighting Bureau selected Petals as the 2022 Art of Lighting Award award recipient. OCL was presented this award at LEDucation 2022. Andrew Schainker, Senior Product Design Manager, accepted the award. Schainker is the designer for all OCL light fixtures.
There are three categories of award winners which include The Science of Lighting Award, The Art of Lighting Award, and The Art and Science of Lighting Award. For each category there is 1 winner. With many submissions sent in to the awards committee, NLB's juror panel chose OCL's Petals as the winner for the "Art of Lighting' award.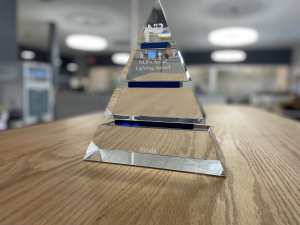 In order to win the 'Art of Lighting' award the requirement is that the 'lighting product provides outstanding aesthetic appeal and high-quality lighting, based on the innovative use of lighting technology, materials, or sculptural forms.' NLB's juror panel consisted of some of the most knowledgeable and experienced professionals in the lighting industry. OCL received this award during LEDucation 2022.
Inspired by the natural beauty and elegance of a flower in full bloom, Petals intentionally mimics the subtle nuance of real flower petals in sunlight with the way the light softly glows and gradates across the petals.  This fixture is equipped with arced petals that are sleek and curved, sparking organic inspiration for composition of the space. The sweeping curve of the petals joins the central hub, pulling the viewer in visually and creating an almost mesmerizing, calming focal point.
Soft, comfortable materials and nature-inspired forms combine to soften some of the harsh industrial materials and finishes common in commercial interiors. Petals works outstandingly as a single statement piece. It can be a central statement fixture over tables or grouped together in clusters to define seating and meeting areas in communal spaces. But where it really shines is in clusters of multiples, invoking the look of a sculptural garden or a field of blooming flowers in the spring. Petals truly can create a span of art. The fixture is beautifully refined from above and below so any open space becomes a beautiful garden of light.
Thank you to everyone that submitted Petals to the National Lighting Bureau!
______________________________________________________________________
The National Lighting Bureau (NLB) exists to create demand for High-Benefit Lighting®— efficient lighting designed to optimize human performance, health, safety, and commerce — by educating those who make and influence decisions about lighting.
The National Lighting Bureau is an independent, IRS-recognized not-for-profit, educational foundation that has served as a trusted lighting-information source. The Bureau provides its services to the public free of charge, thanks to the generous funding of the organization's sponsors which include professional societies, trade associations, labor unions, manufacturers, and agencies of the U.S. government.