2017 New Products Poster
We have a new OCL poster (brochure) with updated content. This version folds out with a collage of application photos and highlights some of our newer products, including GlowRing, Solo, Twin, Fiori, Dash, Aro and Glowstick.  This poster also includes the world premier of two brand new product families – Centro and Pleatz.
New-Products-Poster-2017 Click to view and download PDF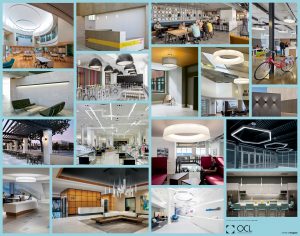 New content includes:
–        Brand new series – Centro – Available as Pendant, Indoor/Outdoor Sconce, Ceiling
–        Brand new series – Pleatz – Available as Pendant, Ceiling
–        GlowRing product family with optional metal trim on inner or outer diameters
–        Solo and Twin metal rings (standard diameters up to 120")
–        Fiori wall mount rated for wet locations
–        Aro product family including custom shapes and sizes
Contact us for a supply of posters.