Nestlé Headquarters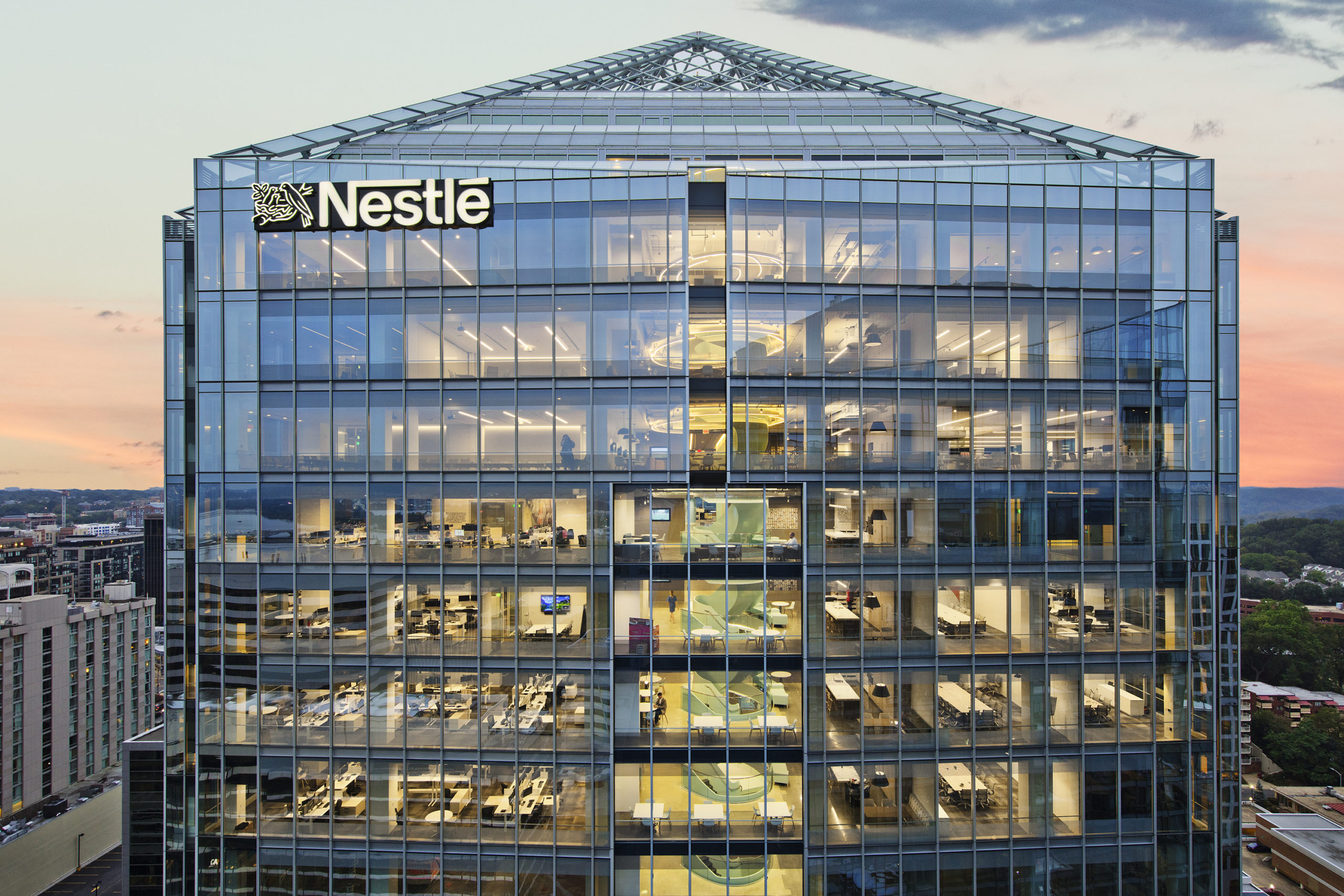 'Good food, good life', that has been Nestlé's motto since its foundation in 1866 in Vevey, Switzerland. The United States is their #1 market worldwide with over 130 sites across the country in the US. From the beginning Nestle has constantly expanded its scope with each new product. With their 2018 move of Headquarters from Los Angeles, California to Rosslyn, Virginia, in Arlington County, they can also tack on 'Good spaces' to their motto.
The decision to move from sunny weather that could melt chocolate to a different climate and culture near buzzing DC was in part motivated by a desire to be closer to their east coast consumer base. With different city regions to choose from, the northern Virginia area stood out because of its vibrancy and talent. The opportunity to participate in direct matters of Washington DC as opposed to being an onlooker from afar also served as an exciting prospect.
While such a move was challenging for the Nestlé team in acclimating to a totally different side of the country, the risk was worth it. Nestle Head of Corporate Real Estate and Facilities Dawn Schriff spoke in an interview with Gensler on the expansion of opportunity for collaboration with this move. This transition in headquarters was expected to bring 750 additional jobs to the area, broadening the pool of talent and resources for their business. Speed, agility, and integration served as guiding forces in the move to catalyze the potential for Nestlé and the city of Arlington contemporaneously. Steps from the metro, the new HQ is centrally located and easily accessible.
The grand opening of the new Nestlé HQ, after three years of work on the project, capitalized on the importance of community by inviting locals and elected officials alike to the Nestlé Good Life Fest complete with a ribbon cutting ceremony and product samples booths. The event was an exciting opportunity for the community to interact informally with Nestle.
Gensler's design of the new HQ centers around food as a social experience to be shared – like cracking off a piece of a chocolate bar to pass to a friend. The new space houses their different test labs more visibly. Through incorporating crowdsourcing into their practice as well, Nestlé has broadened opportunities for their team members to share their product ideas. Nestlé has always made conscious efforts to be involved in their local community, whether it be partnering with a local food bank, redoing a playground for the YMCA or other philanthropic efforts.
Lighting design rockstars Bliss Fasman made sure the space is technologically adept. The headquarters is complete with motion sensor digital displays and interactive exhibits installed by FLOAT4 under Gensler's direction. Such features including LED ribbons and LCD screens open the doors for a new kind of engagement: interactive branding. RealMotion Servers produce content on each of the seven floors that recognize hand movements and react in real-time as people pass by. This platform is flexible so that Nestlé employees can update the content displayed regularly if they choose. Of course, it wouldn't be a true Nestle Headquarters without Nespresso machines and an ice cream cooler for the break room- not to mention hot cookies at 2pm.
---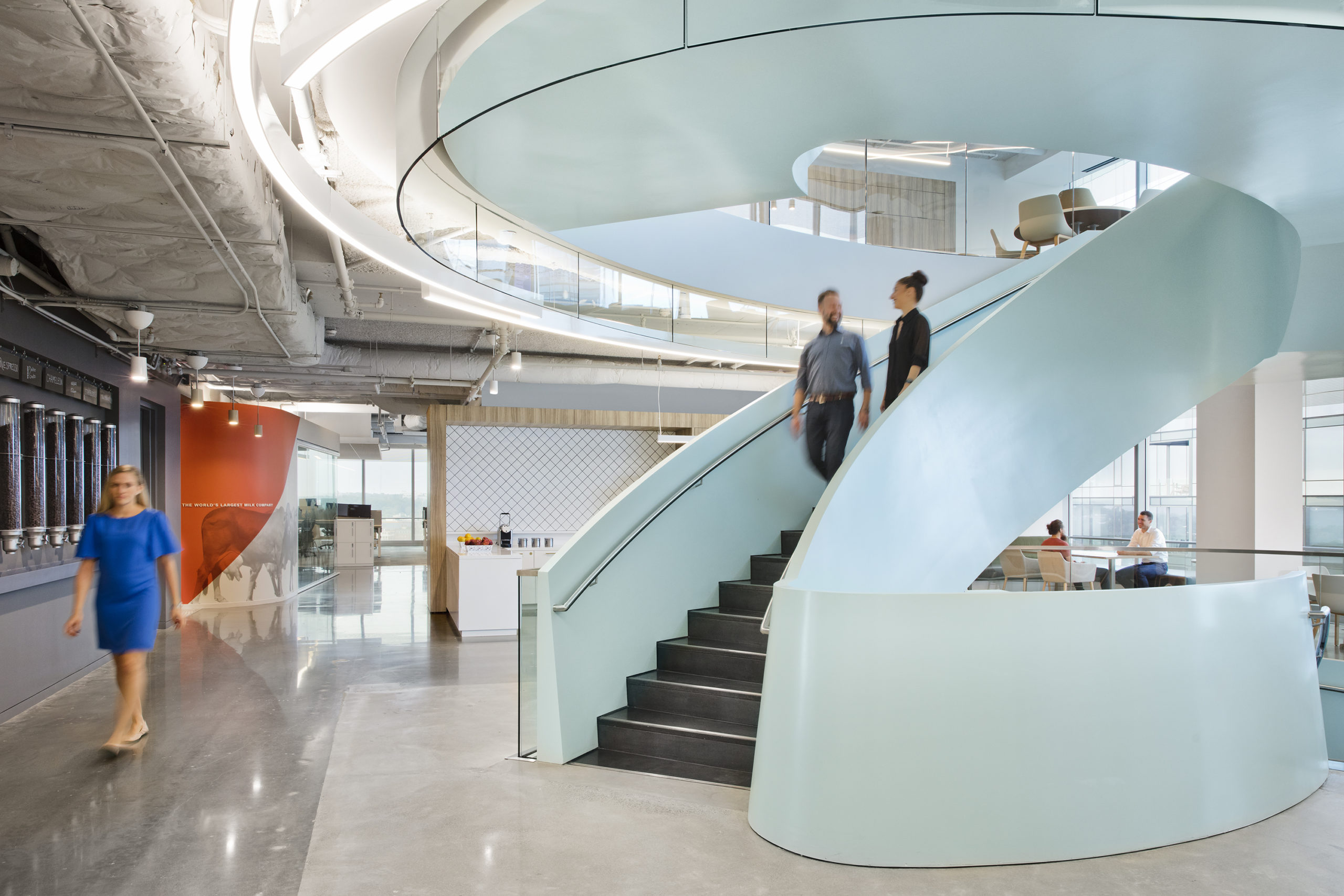 OCL supplied a number of luminaires to this project, both standard and custom.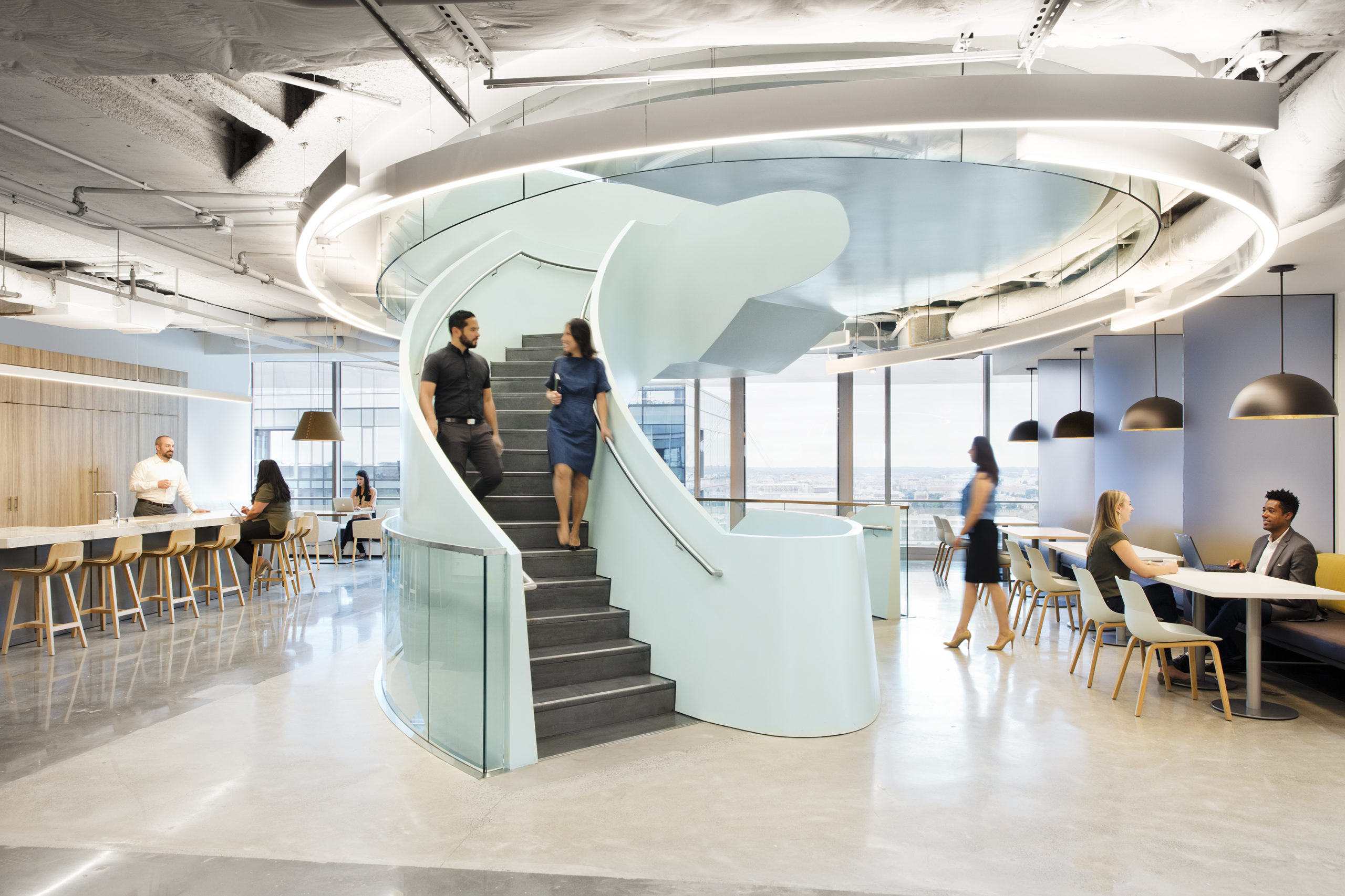 OCL's largest contribution to the project were a series of modified Twin arcs encompassing the central staircase from the ground floor to the top. (Check them out in the building photo at the top of this page!)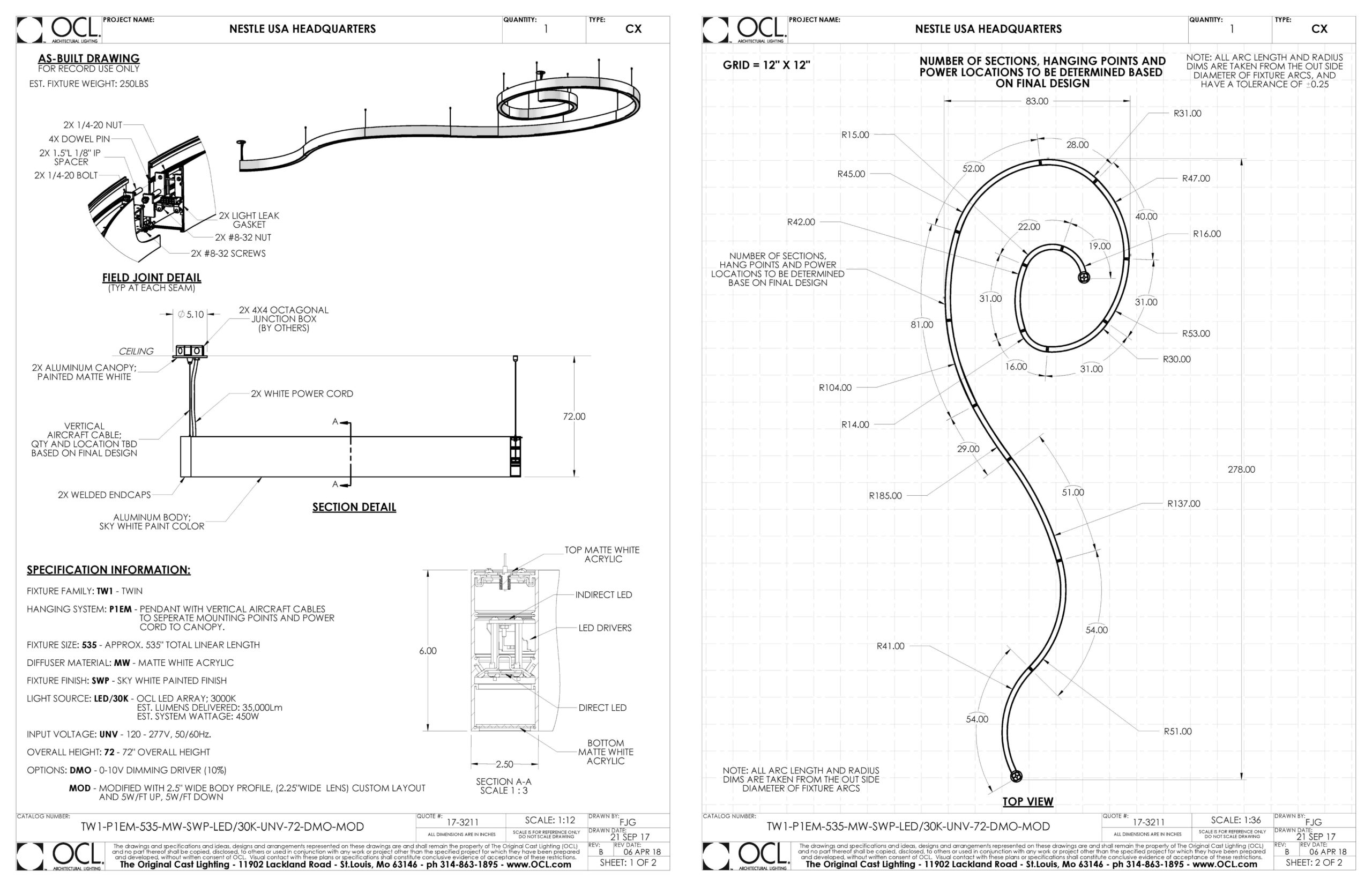 Custom Engineer Andy Conro spoke about his work on the Twin fixture drawings, starting from the quoting process to then manipulating the standard assemblies to generate the bodies.
"Working in custom is neat because you are starting from the ground up and have the freedom to start from scratch," Conro said.
In creating the large-scale arcs, it was necessary to break the bodies into different sections to get them to flow. From there, OCL created the part drawings for fabrication and custom rolled arches. The biggest challenge lay in assembling the bodies and keeping track of all the differences in location to make everything as clear as possible for assembly and installation. The effort required for his project involved OCL's entire team collaborating to make sure every detail was spot on.
---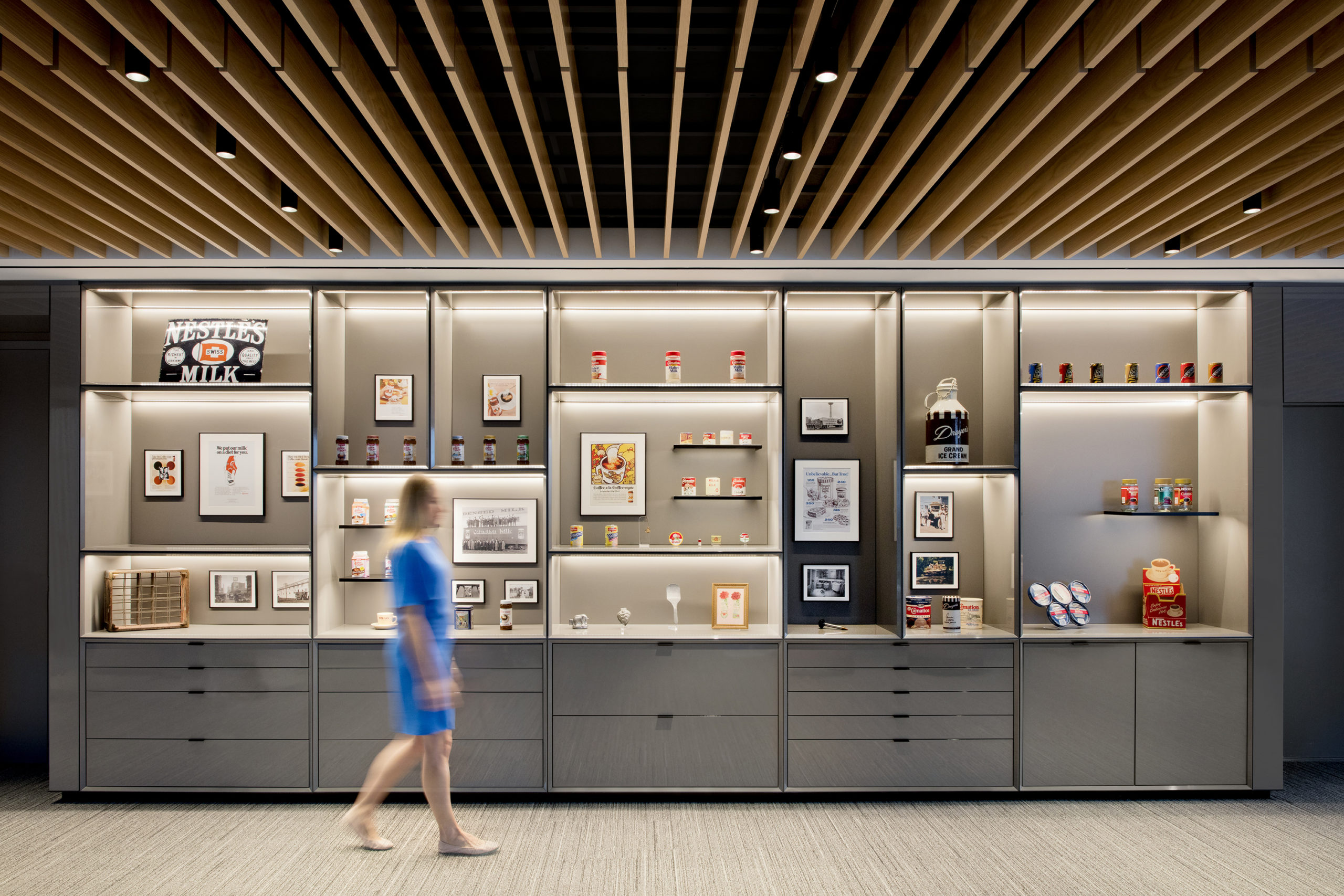 OCL also created a "Track-like" custom low voltage fixtures you'll find recessed throughout the space.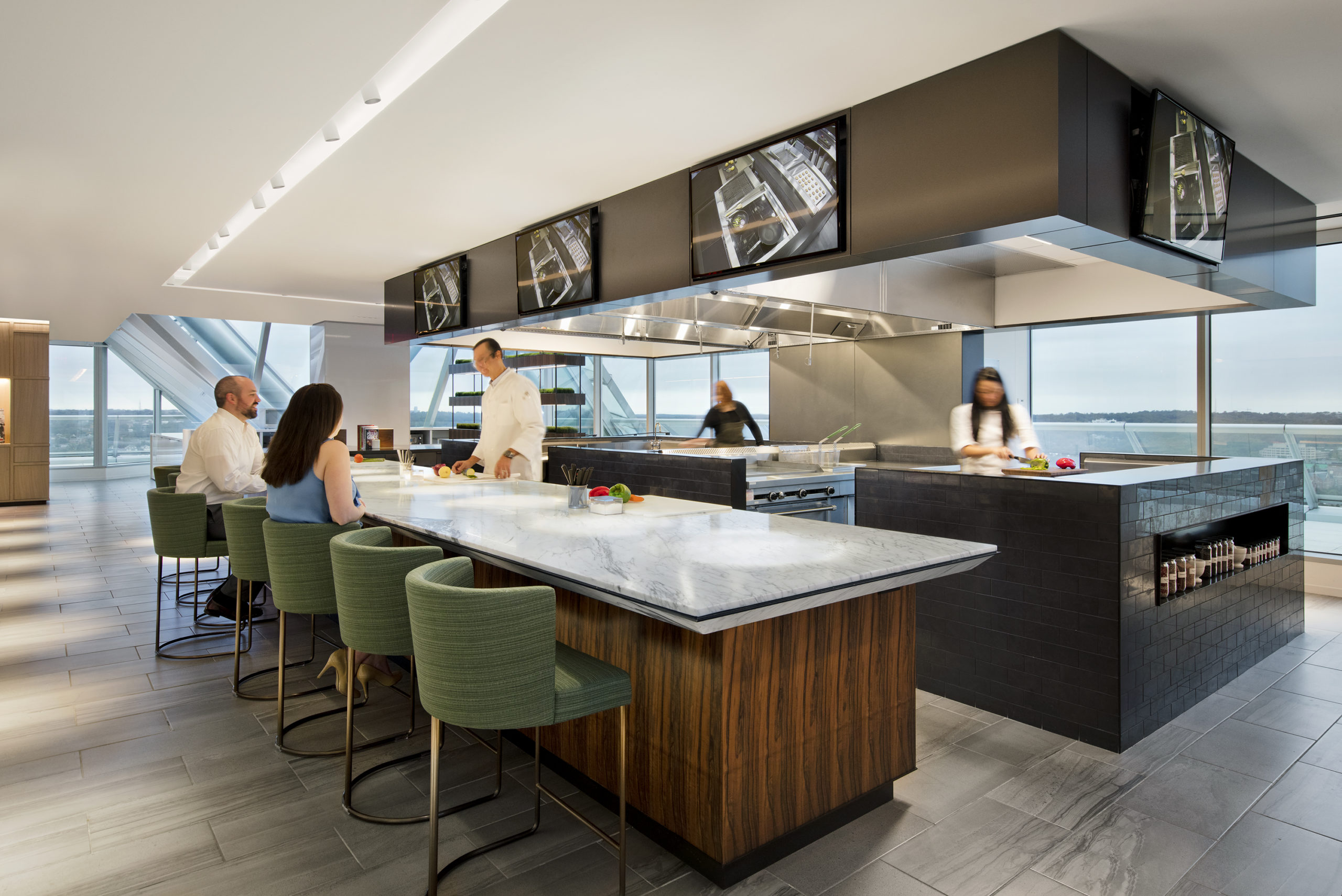 OCL's custom track lighting used suspended leather straps and a geometric knuckle design –  involving especially intricate work. Custom Engineer Frank Gibilterra expressed how the narrow profile requested posed a unique challenge.
"The team had to research and design all new custom bracketry for the project. The massive scale of the project was daunting with the different radii and extrusions containing 5 different configurations with well over 100 parts."
The ambitious task for the custom team & production team was completed through hours of research and design leading up to fabrication and production of the fixtures. Each fixture was assembled, mocked-up, and tested before shipping to the site to ensure it was up to OCL quality standards.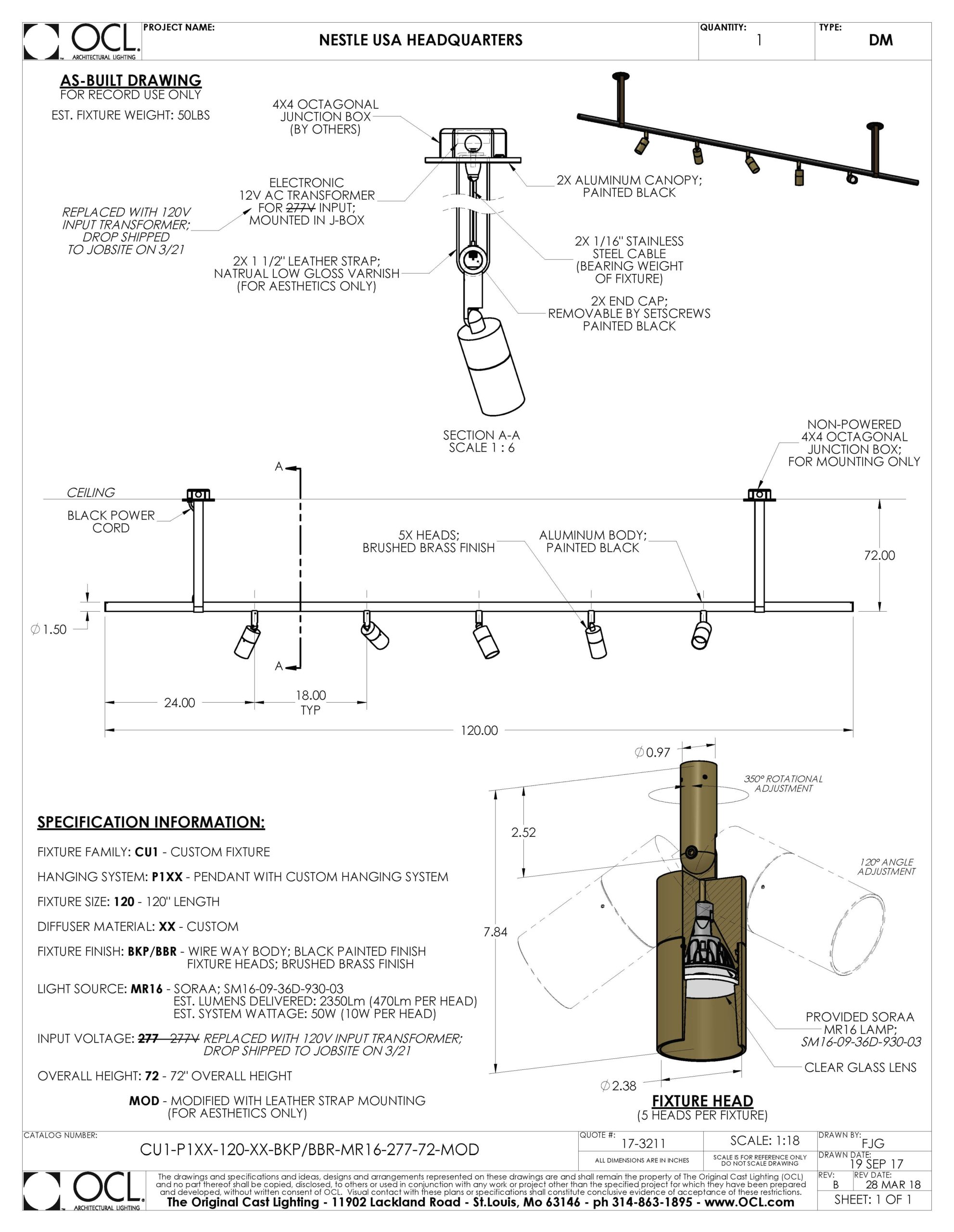 ---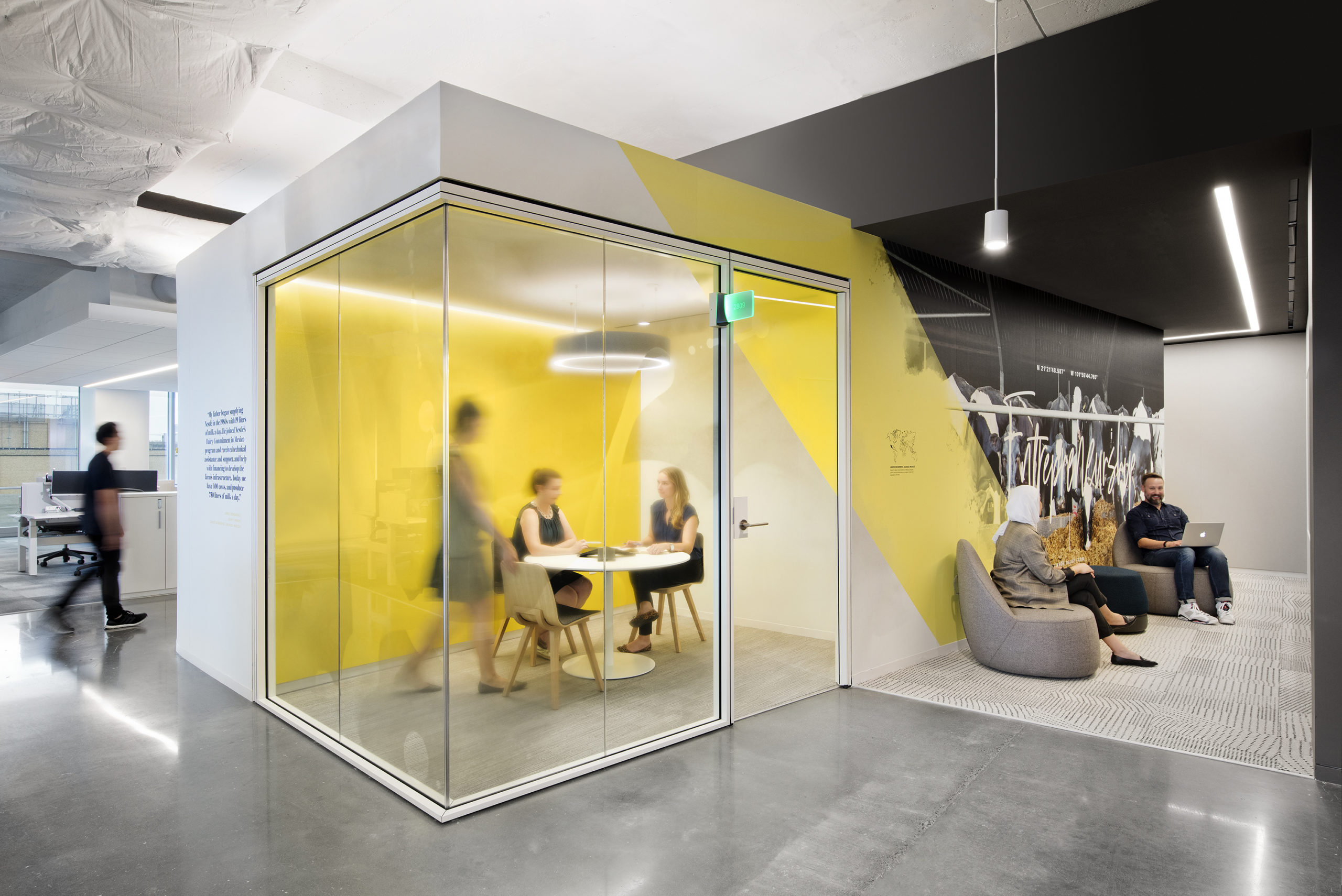 The project features several standard Twin pendants in small conference rooms.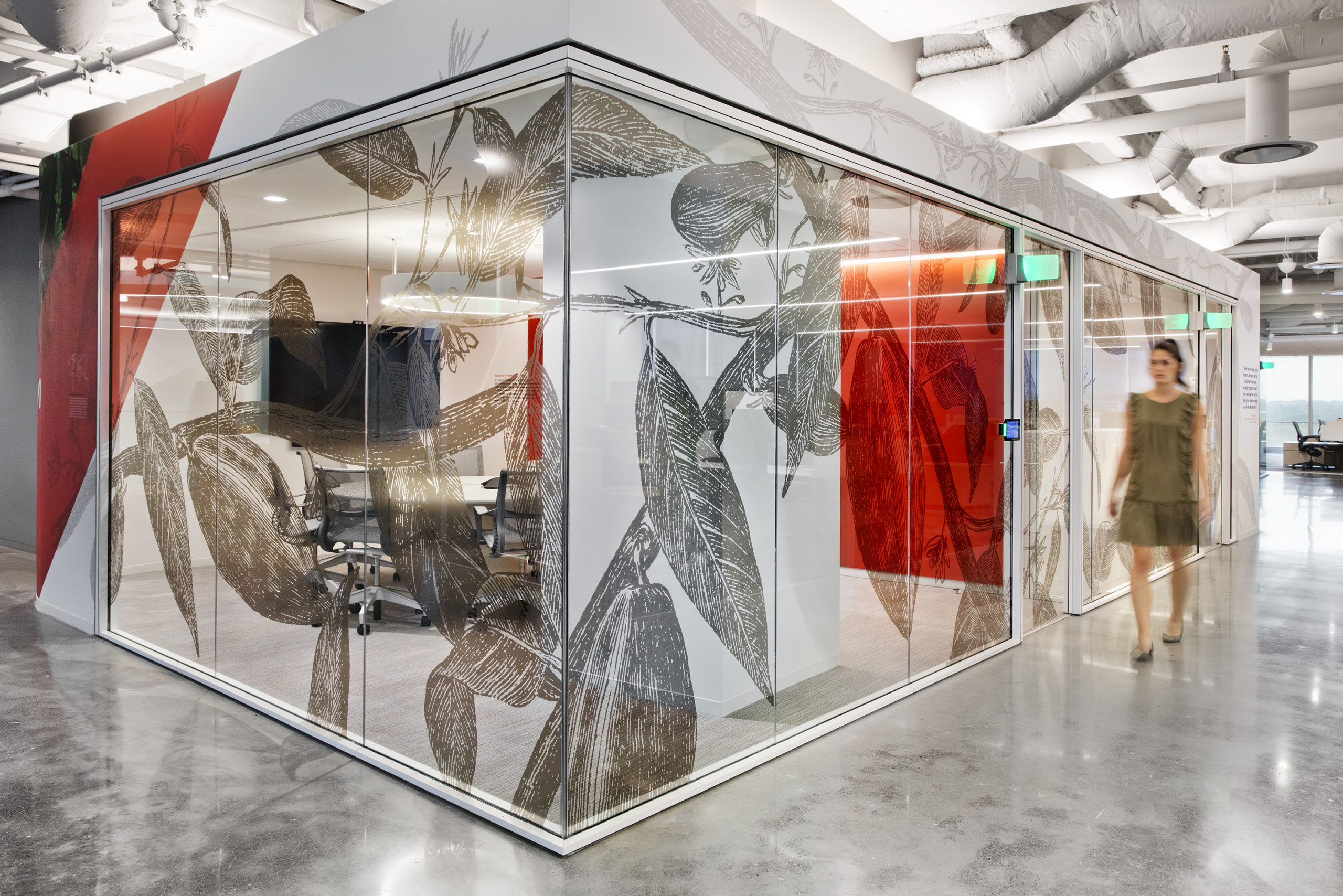 ---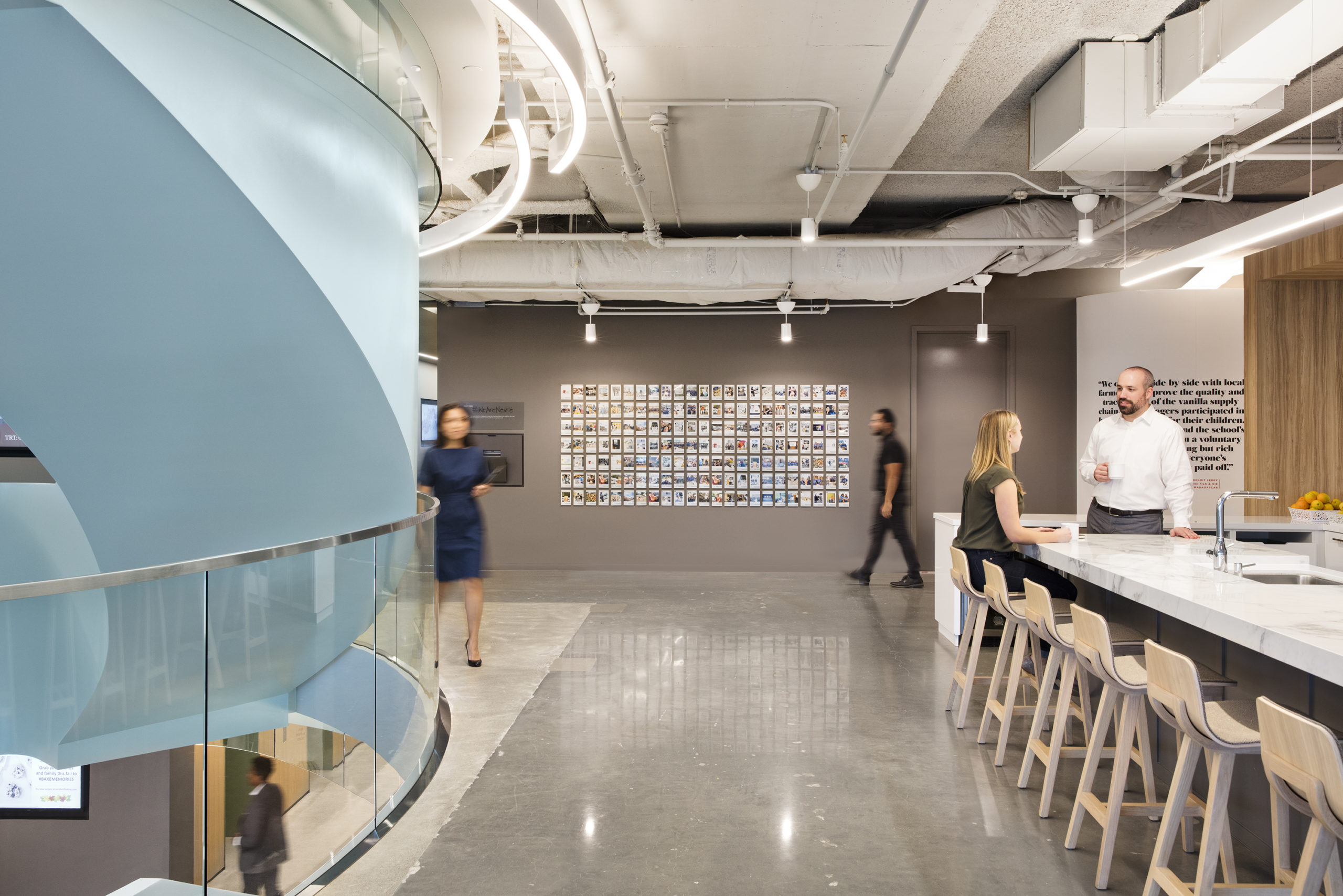 And over 100 Astra pendants can be found guiding people throughout the environment.
---
Nestle's long history is about more than just their products. Their commitment to their customers and employees shines through in the creation of their new HQ. This space symbolizes community, culture, and expression using digital design to foster organic collaboration.